Blogs
Top 5 IT Outsourcing Trends for 2023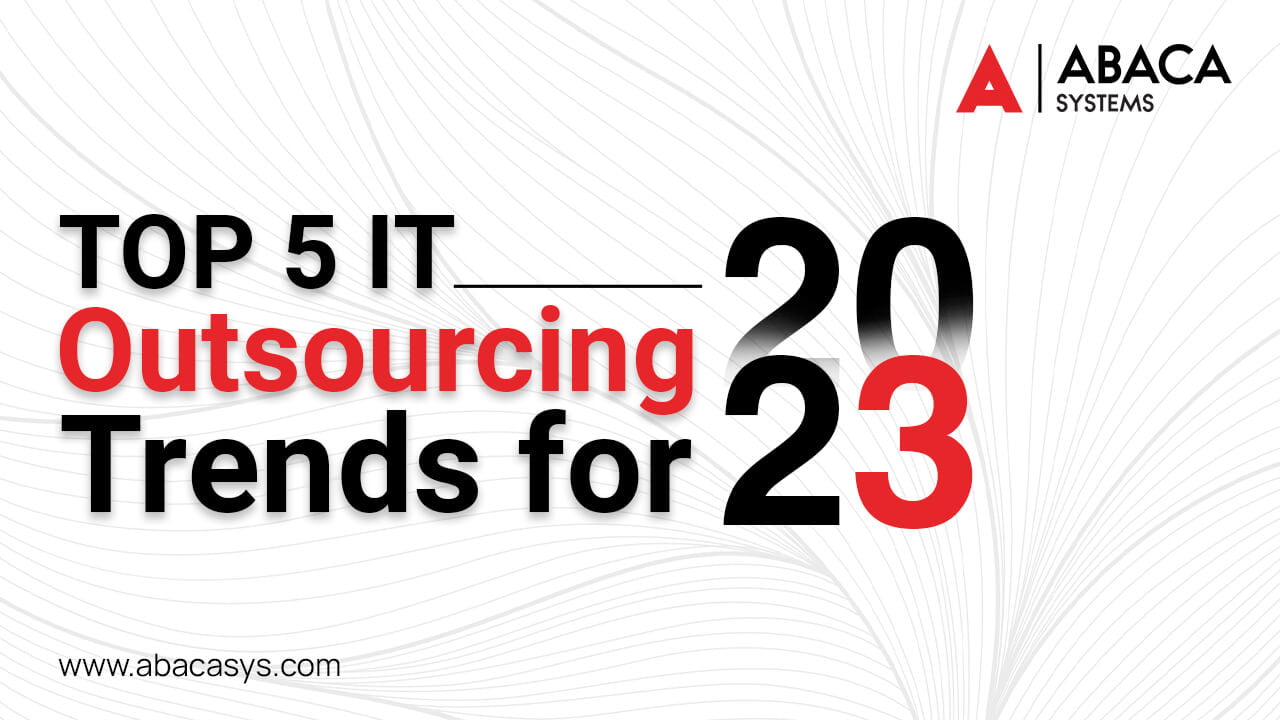 The need to innovate, stay on pace with the market, and increase efficiency drives many organizations to outsource their IT. Outsourcing has become all the more attractive recently, given the complexities of managing various organizational departments and functions. Some companies have also begun to view outsourced services as an integral part of their business growth strategies. The following are IT outsourcing trends for 2023 that will help you better understand the significance of outsourcing in your organization.
1. Cloud Computing
Cloud computing is a type of IT outsourcing that involves using the Internet and other computerized technologies to provide computing power and storage space to businesses and other organizations. Cloud computing is prevalent today because it offers several benefits over traditional IT outsourcing.
Cloud computing allows businesses to access data from multiple servers, improving their operations' efficiency. With cloud computing, businesses can access their files from any location worldwide with an internet connection, so long as they have access to an internet connection. This has made cloud computing a smart option for organizations who want to outsource their IT needs.
The second trend is AI and Machine Learning in IT Outsourcing. As artificial intelligence (AI) is becoming more widely used in everything from self-driving cars to banking, it's no surprise that it's also being applied to the IT industry.
AI could help reduce the cost of IT outsourcing by automating certain tasks. For example, an AI-powered virtual assistant could manage customer relationships and interactions, while machine learning algorithms could automate data analysis and predictive analytics. This would allow you to devote more resources to strategic business initiatives, such as new product development or marketing campaigns.
In addition, AI will enable you to outsource work that requires human judgment — such as complex strategy development or employee performance management — which can be challenging for an outsourced team of developers or consultants to handle efficiently.
3. Digital Transformation
Digital transformation is one of the most important trends in IT outsourcing. Most companies are now looking for digital transformation solutions to succeed in the market. The digital transformation uses modern technology and IT tools to improve business processes and increase customer satisfaction.
As a result, many companies are investing in digital transformation projects and trying to find the best provider for this service. One of the biggest trends impacting IT outsourcing is digital transformation, which will help organizations get more value from their investments.
4. IoT and Machine Learning in IT Outsourcing
The Internet of Things (IoT) is becoming a trendy topic in the IT world. From smart homes to connected cars, companies have been exploring ways to leverage this technology to improve their business processes. As IoT becomes more mainstream, businesses are beginning to realize how much they can save by outsourcing their IT infrastructure to an experienced vendor.
Many companies are choosing to outsource their IT infrastructure because it allows them to focus on other initiatives that are more strategic for their businesses. Outsourcing can also provide a lot of flexibility for organizations that need help with certain projects or tasks but want to avoid hiring full-time employees or paying benefits packages.
5. Big Data Analytics to Help Companies Grow Faster
Big data analytics is a critical component in the next wave of IT outsourcing. Using big data analytics to help companies grow faster can be a game changer for the industry.
The technology has been used by many companies, including Google, Facebook and Netflix, to help them develop new products and services.
Big data analytics combines advanced statistical modeling techniques, machine learning, data warehousing and business intelligence. This combination allows businesses to capture a massive amount of information about their customers' behavior and trends so that they can use this information to improve the products and services they offer them.
It's also crucial for business owners to understand that extensive data analysis isn't only limited to data scientists; other professionals can also do it within the company who have access to better hardware or software than a typical IT department would have access to.
The Bottom Line
Abaca Systems is a leading custom software development company serving small businesses and enterprises. Our software developers, business analysts, and project managers are committed to providing you with the best possible customer experience. Contact us to outsource your IT requirements to improve your business process and reduce overhead & operational costs. We look forward to helping you with your next web application project.