Blogs
Why Are Oracle APEX Customers Opting for Oracle Cloud Infrastructure?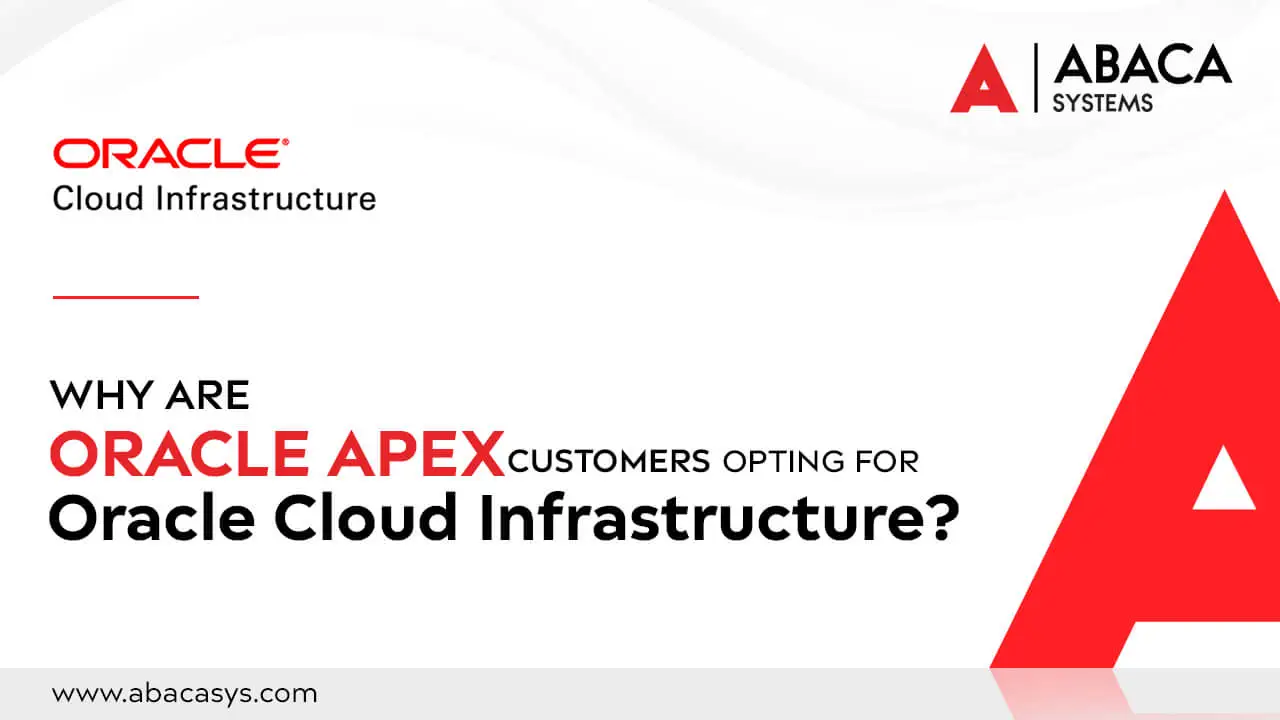 Oracle Application Express (APEX) is a powerful, extensible, and cloud-based application development tool that can help you create full-featured business applications. Oracle's APEX user community has grown significantly as businesses have realized this powerful application platform offers many benefits. This article will give you an overview of why Oracle APEX Application Development customers choose to run their applications on Oracle Cloud Infrastructure. Before that, it is imperative to know what Oracle cloud is.
Oracle cloud is a fully managed infrastructure and software as a service (SaaS) offering that helps you deliver applications, databases, and services faster. It provides a full range of systems management tools and services to help you take advantage of the latest technology trends.
Oracle cloud allows you to run applications in public or private clouds, on-premise, or hybrid environments. You can choose from Oracle's complete range of products, including databases, middleware, application development tools, and more. Oracle cloud also offers fully integrated big data analytics and security solutions to protect your data against cyberattacks.
Here Are the Key Reasons to Embrace Oracle Cloud:-
1. Capabilities to Optimize Performance:-
Oracle APEX customers are looking for a platform that can help them to optimize their performance. The Oracle Cloud Infrastructure provides them with the right solutions and services to meet their business needs. This can be achieved through optimized hardware, software, and services that help them deliver high-performance computing solutions for their business requirements.
Oracle APEX customers have seen increased demand for cloud-based applications and cloud infrastructure.
Oracle Cloud Infrastructure allows customers to access their applications anywhere on any device. It also enables them to take advantage of advanced security features such as authentication, encryption, etc., which helps protect sensitive data from unauthorized access or modification by unauthorized users.
2. Optimized for Oracle Workloads:-
The Oracle Cloud Infrastructure is optimized for Oracle workloads. It has speeds and performance that are designed to meet the needs of Oracle's most demanding customers.
Oracle cloud infrastructure can be used to run Oracle applications, including databases, middleware, and application servers. Your workloads will be supported with the latest technology and stable infrastructure.
Oracle Cloud Infrastructure provides a secure environment for your data by using multi-vendor clouds. You can choose from multiple vendors, including Amazon Web Services (AWS), Microsoft Azure, and Google Cloud Platform (GCP).
3. Cloud Costs:-
Oracle Cloud Infrastructure costs less than Amazon Web Services (AWS) because it has no upfront capital costs or ongoing maintenance fees. The only expense is for using resources on the Oracle Cloud Platform, which includes virtual machines (VMs) and storage space for your data.
You can stop paying for these resources anytime by powering down or deleting them from your account. This gives you more flexibility to scale up or down at any time based on your needs or budget.
4. Oracle Cloud Supports SMB Growth:-
Oracle Cloud Infrastructure offers a flexible and secure cloud platform that can be scaled up or down as your business needs change. Oracle Cloud Infrastructure supports multi-tenancy to meet the ever-increasing demands of SMB customers looking to break free from the confines of their own data centers. As a result, Oracle Cloud Infrastructure is ideal for companies that want to:
Scale quickly with no impact on performance.
Bring new applications online quickly without needing additional hardware.
Reduce costs by reducing IT overhead.
Connect easily to the Oracle Cloud.
5. Greater Scalability:-
The Oracle Cloud Infrastructure Platform is built to scale as your business grows.
Oracle Cloud Infrastructure has been built to support the needs of today's businesses. It can be used as a foundation for cloud-based applications and services or deployed on-premises with minimal disruption to existing IT infrastructures.
Final Thoughts
Oracle Cloud Adoption is a crucial step in your data center transformation. Abaca Systems has expertise in Oracle Cloud Adoption and can help you deploy your applications, services, and infrastructure on Oracle Cloud. Abaca Systems offers a complete end-to-end solution for Oracle Cloud Adoption. We understand the challenges of migrating from traditional IT environments to the cloud, so we have an in-depth understanding of how to approach your transition best.